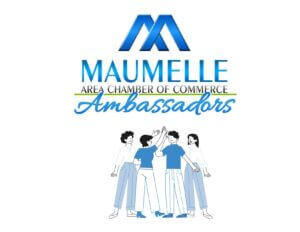 Ambassadors are highly visible, prestigious volunteers for the Chamber. Ambassadors attend ribbon cuttings, luncheons, and other events as goodwill representatives of the Maumelle Area Chamber of Commerce. Upon their appointment, each Ambassador makes a commitment to build lasting relationships with the Chamber membership, particularly existing members, through our business retention & expansion program, which will help the chamber continue to support, participate in and invest in the community.
Make contact with current members each month. After initial contact is made make phone calls to personally invite the business to attend an upcoming event and make sure they are aware of all the benefits they receive with membership. Lists will be provided at the beginning of each month.
We ask all Ambassadors to attend as many Ribbon Cuttings, Luncheons, and other events as possible. Each event will be sent out as a calendar appointment before the event. Reminder text will also be sent. This is a chance for you to not only celebrate other businesses, but also to meet the business owner or manager at each establishment.
Ambassadors are asked to attend the monthly meeting on the 1st Thursday of every month at 11:30 am. Ambassadors will report their progress with their member contacts Ambassadors serve as a primary contact for all questions, needs, suggestions of members.
Actively Recruit New Members to the Chamber by inviting prospective and existing members to networking events to increase exposure of local business and the Chamber. If you have a working relationship with a business in the area schedule a time for the Chamber Director to meet with them to discuss what the Chamber can offer.
Michelle Hill – AR Food Bank
Mary Gardner - Benefit Concepts of AR
David Ruehr – Coldwell Banker RPM
Reuben Ballard – Arkansas Federal Credit Union
Lisa Holloway-Sugg - Crye-Leike Realtor
Billy Evans-Delrie - Maumelle Florist & Every Blooming Thing
Celia McCorkindale - Community Member
Brittany Brown - US Bank
Christie Drake - Fidelity
Marian Smith – Yoga Maumelle at Comphealth
Liliana MacPhee - Crye-Leike Realtors